Whether you're looking for a roving magician, or a Las Vegas Style Comedy Magic Show, Jackson Aces guarantees the best entertainment for corporate events and private parties.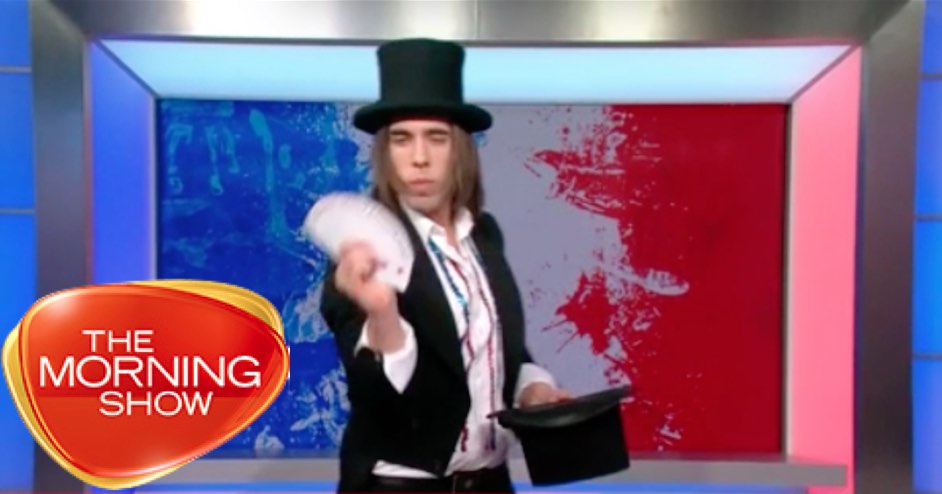 Be My Next Happy Client
Book Jackson Aces for your next event.
Need a magician for your next event? Enquire now and see Jackson Aces and his master cardistry and roving magic.
Responses From Jackson's Audience
Jackson Aces' magic has been blowing the minds of millions of people around the globe. He has over 4 million followers online such as TikTok and many celebrity endorsements.
Andrew Banks, Shark Tank AU
"That is incredible!"
Darryl Brohman, TV Personality
"Amazing! You get me every time... Very funny show!"
Josh Dugan, NRL Star
"You always freak me out. So good."
John Mangos, TV News Presenter
"You're impeccable at your craft, very skilled and a true gentleman."
Johnny Ruffo, Australian Singer
"You blew everyone away. Your tricks even fooled our cameramen in slow-motion!"
Kate Ceberano AM, Singer
"Amazing! That's the best magic trick I've ever seen!"

Marina Prior, Australian Soprano
"I'm fascinated..."
Paul Gallen, Australian Footballer
"Aahhh!! No way!! Amazing!!"
Deepak Khadka, Consul General of Nepal
"You are a very funny man; your magic tricks are unbelievable!"
Dami Im, Australian Singer
"Oh my god! How did you know who the name I was thinking of?!"

Jack Goldfinger, The World Famous Magic Castle, USA
"That last magic trick in your show was the pièce de résistance – and you actually fooled ME!"
Susie Maroney, Australian Swimmer
"You are out of this world! Teach me!"
Russell Boyd, Oscar-Winning Cinematographer
"A pleasure to work with - very creative."
Ron Wilson, TV & Radio News Presenter
"The best magician I've seen!"