With a father (Pat Jarvis) who represented Australia in Rugby League, one would expect Jackson to pursue a life of sport, but destiny had a different path in store for him.
At the age of twelve, Jackson found his calling when his mother bought him a magic deck of cards for his birthday. Having spent countless hours as a child playing cards with his mother by her hospital bedside, Jackson had always found comfort in the feel, sound and scent of a deck of cards.
Jackson spent his teenage years relentlessly practicing, perfecting his art, sometimes for more than 10 hours a day. Before graduating high school Jackson had mastered techniques in card magic that few magicians anywhere in the world could perform, as well as a new art form called cardistry (card artistry).
Jackson's speed, skill, and ability to make seemingly endless amounts of playing cards appear from thin air (without wearing sleeves) gained him instant recognition from Sydney magicians, who referred to him as the Master of Cards.
MW Magazine described Jackson as a "supremely talented" magician.
The prestigious magic magazine VANISH USA described Jackson's magic show as "a stunning choreography of cards constructed with all the fantasy and emotion inherent of a poet."
Jackson's skill in magic also includes mind reading, illusion, roving magic and comedy magic stage shows, making him highly sought-after in the corporate event entertainment market. His list of esteemed corporate guests include Myer, Telstra, Australian Turf Club, Marriott Hotels, The Four Seasons Hotel, Event Cinemas, British American Tobacco, Thredbo Resort, Merivale and Mercure.
Jackson's unique talents in cardistry have made him a social media sensation with nearly 50,000 followers across Instagram and Facebook, garnering an invitation to judge the 2015 International Cardistry Open Tournament.
Due to Jackson's finesse and manual dexterity, he has also appeared in four movie-magic TV commercials for iSelect, Chartered Accountants, ANZ and Xero (watch the magic here).
Jackson also worked with international magician Dynamo on his recent trip to Australia. The magicians spent time sharing tricks with each other and performed magic together on 2DAY FM for Dynamo Magician's Australian Tour 2016.
For three years, Jackson was the resident magician at The Star Casino Sydney performing an array of magic shows. This saw him entertain a stable of esteemed guests, including Eurovision Grand Finalist Dami Im, in her private limousine and afterparty, making him in big demand as a magician for hire at private events.
Jackson's talents in both magic and cardistry have also caught the eye of marketing & PR companies, music producers and television producers. He featured on Disney performing magic, having also taught magic to celebrities Candice Dixon and Jackson Gallagher (Home and Away, Playing For Keeps).
Jackson's hands are so fluid and swift that he has appeared twice on The Morning Show Channel 7.  Not only that, Toasted TV flew Jackson to Brisbane to appear as a special guest, and pop star Johnny Ruffo cast Jackson Aces as the Poker Dealer in his music video "She Got That O" (Click here to watch).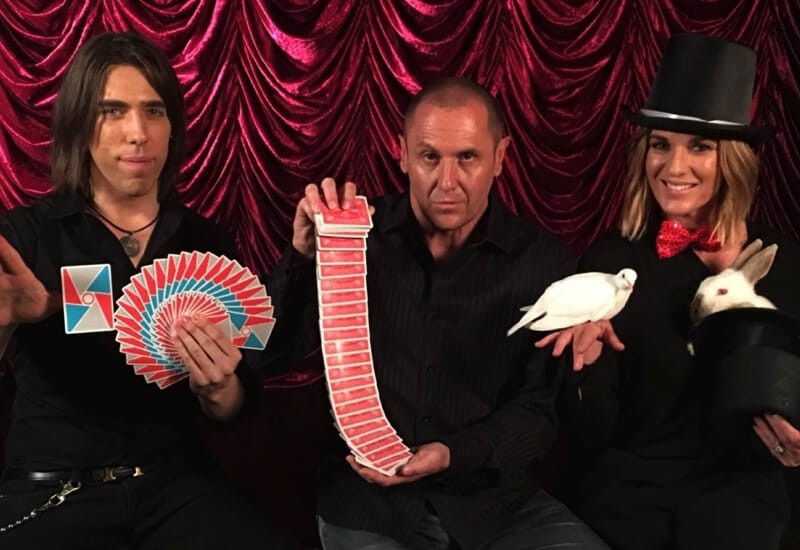 Need a magician for your next event? Enquire now to see Jackson Aces' mastery of cardistry and roving magic.