Whether you're looking for a roving magician, or a Las Vegas Style Comedy Magic Show, Jackson Aces guarantees the best entertainment for corporate events and private parties.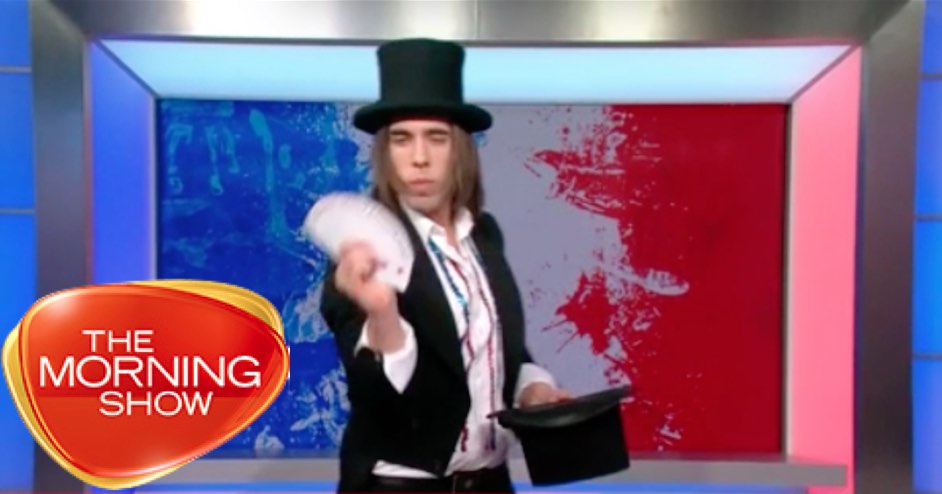 Be My Next Happy Client
Book Jackson Aces for your next event.
Need a magician for your next event? Enquire now and see Jackson Aces and his master cardistry and roving magic.
Responses From Jackson's Audience
Jackson Aces' magic has been blowing the minds of millions of people around the globe. He has over 4 million followers online such as TikTok and many celebrity endorsements.
Penn Jilette, Of Penn & Teller: Fool Us
"I'm blown away!"
Shane Watson, Australian Cricket Captain
"You have to tell me how you do it!"
Michelle Bridges, Celebrity Trainer & TV Personality
"That has FREAKED me out!!"

Mike Tyson, World Heavyweight Champion Boxer
"Nice!! That was real magic."
Teller, Of Penn & Teller: Fool Us
"Wow! Your sleight-of-hand is very advanced."
Mark Bouris, Millionaire Businessman
"Usually I don't like magicians, but you got me good! I'm impressed."
Kyle Sandilands, Radio Personality
"What the hell!! That's weird... I want to come to your magic show."
Larry Emdur, Channel 7 Morning Show Host
"I'm out of here, it's creepy!!"
Justin Hemmes, Billionaire Merivale CEO
"I'm still trying to figure it out!"

Jeff Fenech, World Champion Boxer
"Jackson's magic is simply the best!"

Kylie Gillies, Channel 7 Morning Show Host
"Oh my god!! How did that happen?"
Luke Lewis, NRL Star
"Unbelievable! I still can't figure it out."
Ray Martin AM, Journalist
"That is sensational! Just sensational..."
Dynamo, International Magician & Illusionist
"Your cardistry is CRAZY!"

Guy Sebastian, Australian Pop Star
"WHAT!!! That's just insane! How?!"

Alan Jones, Radio Personality
"I love you!"